Welcome to our site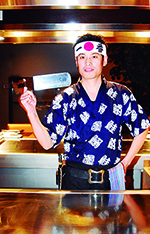 Welcome to Ichiban! "The one of Best Tasting in Marbella Town" The name "Ichiban" means number one. Our "number one" goal is to make your dining experience memorable and enjoyable. The highest quality food, friendly service, cleanliness and unique atmosphere truly reflect the name "Ichiban". In our dining room where our staff prepare your meal at the table,it called "steak on hot stone" the natural flavours of fresh ingredients, combined with the unique method of cooking, assure our customers of health conscious cooking, without sacrificing taste, flavour, or quality. Also we do popular Japanese dishes such as Tempura and Teppanyaki are served, or try our unique Sushi Bar. Everything is made daily in house including Nigiri Sushi, Sashimi and many variety of special Sushi Rolls. For those who do not wish to eat raw fish. What we gonna do is "keep every thing flash" We at Ichiban believe your dining experience will be a truly delightful one.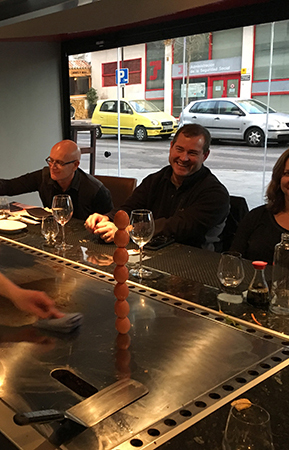 Teppanyaki (鉄板焼き teppan-yaki?) is a style of Japanese cuisine that uses an iron griddle to cook food. The word teppanyakiis derived from teppan (鉄板), which means iron plate, and yaki (焼き), which means grilled, broiled, or pan-fried. In Japan, teppanyaki refers to dishes cooked using an iron plate, including steak, shrimp, okonomiyaki, yakisoba, and monjayaki.
Modern teppanyaki grills are typically propane-heated flat surface grills and are widely used to cook food in front of guests at restaurants. Teppanyaki grills are commonly confused with the hibachi barbecue grill, which has a charcoal or gas flame and is made with an open grate design. With a solid griddle type cook surface, the teppanyaki is more suitable for smaller ingredients, such as rice, egg, and finely chopped vegetables.
OUR SPECIALS
Green dragon roll

Rollo de dragon verde
Teppanyaki chicken

Teppanyaki pollo
Sashimi mixed

Sashimi mixto
Teppanyaki icecream

Helado a la plancha